The procedure when buying a boat
A pre-purchase survey
We always recommend buyers to have a pre-purchase survey of the boat carried out by an independently recognized Marine Surveyor. This is at the buyer's expense. It gives you the insurance that you are not facing unexpected high costs right after buying your dream yacht. You choose an independently recognized Marine Surveyor at your own discretion. We can of course help you find suitable parties.
When any previously unknown defects come to light during a Marine Survey, the seller must remedy these defects (provided that it is included in the HISWA purchase / sales agreement). The yacht broker's role is to mediate between buyer and seller when a Marine Surveyor reveals such defects.
Solving defects
A major advantage we have at VMG Yachting is that our parent company VMG Yachtbuilders has its own yacht service company. When you decide to have us remedy any defects, you do not have to wait long and you continue doing business with the same party. We ensure that everything is arranged from start to finish.
Pay safely
To provide complete security to both the buyer and the seller, VMG Yachtbrokers uses an Escrow bankaccount. The down payment and the remaining payment of the boat are made to this Escrow bankaccount. and are only transferred to the seller after both parties have signed the deed of transfer. Both seller and buyer get security from this way of working, and neither are taking any financial risk.
After delivery
After delivery of the yacht, we at VMG Yachting will not let you down. Do you want to make any upgrades to the boat? We help you make a plan to bring the boat in top condition. Simple maintenance jobs such as antifouling or brushing are not a problem either.
Do you want to send your boat on transport to your new home port, for example the sunny South or the beautiful Scandinavia? We can arrange that for you! In addition, we are also happy to help you find the right insurance.
The first application
We strive to answer your questions on the day of your application. Our website is always up to date with the most actual information and the location of the boat. We try to provide you with all the accurate information in advance, to avoid any unnecessary disappointments later on.
Viewing your potential new boat
The process of buying a new boat often consists of a search that takes you past several boats. The advantage of viewing a yacht at VMG Yachting is that we have multiple yachts in our sales ports.
This enables you to view and compare brands and types of yachts at the same location. A member of our team always accompanies you during a viewing. They can answer any questions you have and give more insights into your search for a boat.
Most yachts are in our sales ports and are always open for viewing during our opening hours. Viewings before or after opening hours are often possible by appointment. We would appreciate it if you give us a call for a viewing appointment, so we can reserve time for you.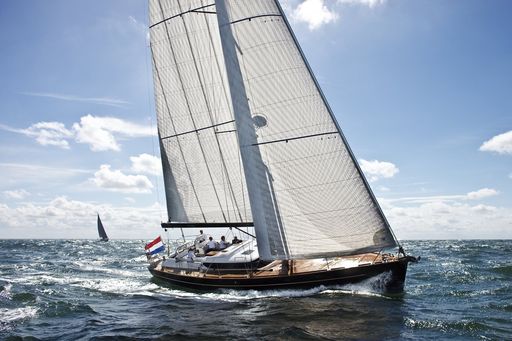 Making an offer on a yacht
What is a realistic offer? We help you determine and substantiate your offer. By clearly informing the seller what your offer is based on, they will have the chance to respond appropriately. Are you not agreeing on an offer? We help the buyer and seller by mediating and therefore ensure that you reach an agreement.
Contract and down payment
When the seller accepts your bid, we draw up a HISWA purchase and sales agreement. This agreement must be signed by both parties. It includes not only the sales price but also any resolutive conditions, the amount of the down payment, the rights and obligations of both the buyer and the seller and the specifications list of the boat.
Upon mediation of the boat, we ensure that all documents belonging to the boat are in a file. This includes the CE papers, VAT declaration and a specification list. We also check whether the boat is free of debts and attachments, whether the ship is registered and whether the seller is the rightful owner of the ship. At the land registry we check whether there is any mortgage on the yacht.
After signing the HISWA purchase and sales agreement, you may request a purchase inspection.
Do you want us to find your ideal boat for you?
Is your dream yacht not in our range of boats? We can find it for you! Fill in this form for a search query. We will contact you within 1 working day.